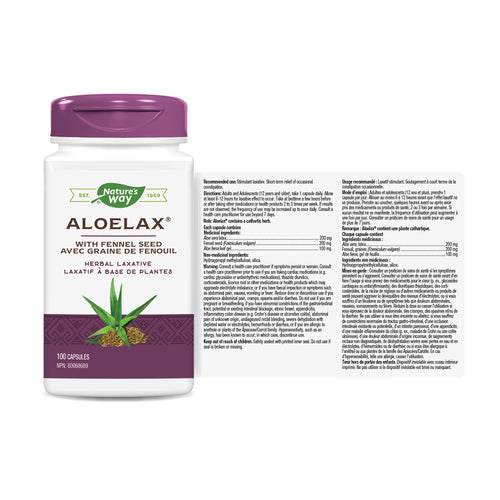 Aloelax, with Fennel Seed / 100 capsules
Proprietary blend of Aloe Vera and Fennel Seed. Herbal stimulant
Product Information
Nature's Way Aloelax is proprietary blend of aloe vera and fennel seed and acts as an herbal stimulant. Aloe vera is sourced from both the latex and leaf gel parts of the plan. Nature's Way Aloelax is Vegetarian.
Refer to the product label for dosing, ingredients, and product information before use.
Directions
Adults and Adolescents (12 years and older), take 1 capsule daily. Allow at least 6-12 hours for laxative effect to occur. Take at bedtime a few hours before or after taking other medications or health products, 2 to 3 times per week. Frequency of use may be increased up to once daily if results are not observed. Consult a health care practitioner for use beyond 7 days.
Warnings
Consult a health care practitioner if symptoms persist or worsen. Consult a health care practitioner prior to use if you are taking cardiac medications (e.g. cardiac glycosides or antiarrhythmic medications), thiazide diuretics, corticosteroids, licorice root or other medications or health products which may aggravate electrolyte imbalance, or if you have faecal impaction or symptoms such as abdominal pain, nausea, vomiting or fever. Reduce dose or discontinue use if you experience abdominal pain, cramps, spasms and/or diarrhea. Do not use if you are pregnant or breastfeeding, if you have abnormal constrictions of the gastrointestinal tract, potential or existing intestinal blockage, atonic bowel, appendicitis, inflammatory colon disease (e.g. Crohn's disease or ulcerative colitis), abdominal pain of unknown origin, undiagnosed rectal bleeding, severe dehydration with depleted water or electrolytes, hemorrhoids or diarrhea, or if you are allergic to anethole or plants of the Apiaceae/Carrot family. Hypersensitivity, such as an allergy, has been known to occur; in which case, discontinue use.

Keep out of reach of children.

Note: Aloelax® contains a cathartic herb.
UPC Code:
033674900048
Product Number:
90004
Ingredients
Medicinal Ingredients

Aloe (Aloe vera, Leaf)
200 mg
Fennel (Foeniculum vulgare, Seed))
200 mg
Aloe (Aloe ferox, Leaf gel)
100 mg

Non-Medicinal Ingredients

Hypromellose, silica.
Shipping
Online purchases are shipped within Canada only, via UPS* within 3-5 business days of being received, with the exception of public holidays. However, due to the current global health crisis, we're experiencing longer than normal delivery times.
Order over $50 (pre-tax) are shipped free of charge. Orders less than $50 (pre-tax) customers will be charged a $6.95 shipping fee.
*
Please note, we do not currently ship to PO Boxes, Northwest Territories, Yukon and Nunavut. In addition, if you live in 
any
 remote area 
where 
the cost of shipping the item is higher then the cost of the item itself, we have the right to cancel your order.